Are you planning an extended trip or vacation and want reassurances that your four legged friend will be okay while you are gone? Well, before you consider a kennel, it may interest you to know that there are other options. There are businesses that can put you in contact with people who will sit with, entertain and care for your pooch. Here are 7 tips on finding a qualified and professional pet sitter to care for your pet.
• Conduct a thorough online search: If you don't know of any local businesses that provide pet sitting services, conduct an Internet search. There are many companies such as Pet Sitters International and National Association of Pet Sitters that let you type in your zip code in order to find pet sitters near you.
• Ensure the company is fully bonded and insured: You will want to make sure that your pet is protected and that it and your belongings are safe and secure. (After all, this person will have access to your home, possessions and your pet.) Be sure to ask your finalists if they are insured and bonded.
• Ask your veterinarian: Pet sitters will often use a network of professionals to put the word out about their business. The advantage here is that you know that your veterinarian will have you and your dog's best interest in mind and will not casually recommend someone who is not qualified.
• Ask other pet owners: Chances are some of your friends and acquaintances have been in the similar situation of wanting to go on vacation but also wanting to make sure that their pet will be well cared for. Here, you know that a trusted friend will be more reliable than an agency.
• Ask for references: Qualified pet sitters will be able to provide you with a list of clients who can vouch for their professionalism. Contact the people on their list if you have any doubt about the sitter's character.
• Double-check the contract: Carefully go over all aspects of your contract with the company you employ so that no problems arise from the service they are providing.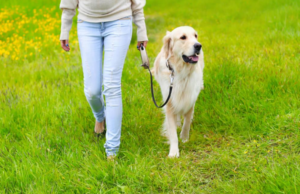 • Let your pet check them over: They say that animals are excellent judges of character. Well, whether that is true or not, be sure to note how your pet responds to the sitter. This way you will feel at ease leaving your pet with a stranger.
There you have it. By following these tips you will hopefully have some peace of mind when leaving your golden retriever puppies with someone else for the first time. Once, you have found a qualified sitter you can view it as a new experience and opportunity to further socialize your English cream golden retrievers. Eventually, you will no longer fear leaving your dog with others.