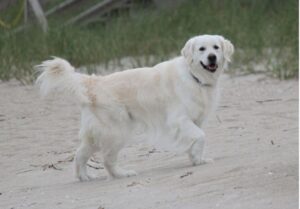 According to the American Kennel Society, golden retrievers are the third-most popular breed among American dog owners. It's not hard to see why – golden retrievers are playful, affectionate and intelligent, not to mention adorable! Keep reading to find out why everyone loves golden retrievers.
The name says it all
According to longtime golden retriever fancier and best-selling author Nona Kilgore Bauer, the golden retriever is "aptly named." While the name originally referred to the dogs' golden coats, Kilgore Bauer says that it also fits golden retrievers' "sunny disposition" and "14-karat value" to owners.
They're eager to please
Your golden retriever just wants to make you happy. Goldens are bred to be part of a pack. Just make sure not to leave your golden retriever puppy alone for too long, or he or she may experience separation anxiety.
They play well with others
If your home includes small children, cats or other dogs, your golden retriever puppy will get along with everyone.
They're beautiful
From creamy, spun honey to burnished gold, golden retrievers are known for the beauty of their coats and the sweetness of their faces.
After reading all of that, you're probably thinking that a golden retriever would make a great addition to your family! At Southern Charm Goldens, we know and love golden retrievers. We pride ourselves on being reputable breeders, and would love to help you find your new best friend. Call us at 662-456-6054 to learn more about purchasing an adorable golden retriever puppy.